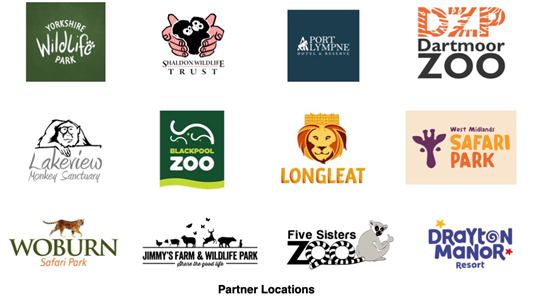 Unique Corporate Team Building in Zoos and Sancturies Nationwid
Why choose Team Building with BITE?
Every activity we run is bespoke to the client's needs, but the core of each workshop is the same. Each group creates feeders or furniture for the animals during their team building event, and at the end of the build, gets to watch the animal's response. This provides a tangible and rewarding outcome to their efforts with an incredible sense of achievement. By conducting these workshops, we aid the keepers at the host institution in their mission to provide the best possible animal welfare, creating enrichment items for the animals they might not otherwise get, due to limitations of time or money. We have mulitple partner locations around the UK to suit your needs!
How will it work for you?
Every booking starts with a phone call where we find out exactly what you want to achieve from your day. Is it bringing
departments together, getting staff that work remotely getting to know each other? Perhaps you'd like a design element or a serious com- petition. You choose the length of event (2 hours, half day or full day), and we work out the best fit for you. Once the phone call is complete and we know how many people are taking part (we've run Team Builds for groups of 5, up to 200), we will set to work planning your day.
On the day.
At the start of the activity you'll be brought into the room or enclosure (depending on what we are building and your requirements), and be faced with all the tools and materials needed for the event. Listen out for the comments from your team members as at this point, it will be very mixed. You will then be introduced to your Instructors who will give you background information on the species you're working with and a safety briefing on the tools you will be using. We will then give you instructions on what you're building, and in a set amount of time for your team will work together to create it. If you like people watching, this is the time for you!
Is it for everyone?
When we brief the team on what they will be doing, the usual reaction is "there's no way we can do that". Watch that reaction change over the course of the event, ending with a finished product and the "I can't believe we did that" comments, it really is one of the most rewarding days your team can have. We have had groups join us from all different backgrounds, from those who have never touched a power tool, to those who are confident in construction. From groups of teachers, admin staff, lawyers, accountants and engineers, this really is for everyone. Our Instructors will be watching over the entire event, offering guidance where necessary, but our aim is to steer only when necessary, and really let the group work it out for themselves, and see amazing in group mentoring.
The end result.
Once complete and safety checked, the finished devices are taken to the species it was built for and we put it to the ultimate test. Of course, we like to make everyone aware that anything new going into the enclosure can have the result of the animals being apprehensive, after all, it is their home and this is a foreign object. The group will see the initial reaction (whatever it may be) and this is a great chance for the team to ask any questions about the animals and find out why the item they have just built is such a benefit. Everything that is built, is built to last and genuinely benefit the animal, what could be more rewarding and memorable than that!
What happens after your event?
This is twofold. Your team will benefit from the incredible experience that they have had, and according to previous groups they will be talking about it for a long time after. And of course the animals will benefit from your efforts for a long time too. Assuming you are happy for us to do so, photos taken during the event will be put into an album on our Facebook page so teams can share and relive the experience. We will also edit together a short video of your day to share with the team and use however you like. Where possible, we also provide follow up photos or video as and when the keepers who look after your species are able to get them to us. These follow up pieces are a great opportunity for you to increase the conversation around the experience, and cement the team bonds that were created.
Why use Team building with BITE?
Unique

Memorable

Meaningful

Empowering
Available courses