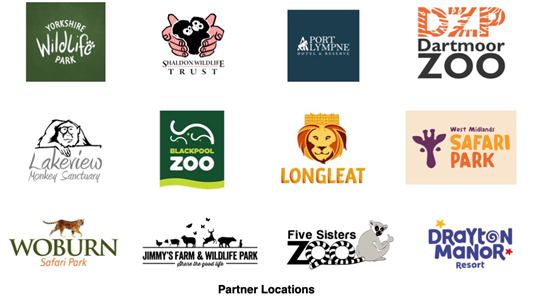 Description
Corporate team building days with a difference! In a 1-2hr workshop groups can either work together or in competition against each other to create enrichment items for wild animals and then get to watch the results, for a team-building event that really does stand out from the crowd! Also ideal for company fun days or combining with part day conferences and meetings. Prices are based on the length of the event, number of people and location so please enquire for a quote.
All prices are based on the length of the event, number of people and where your event is held, so please don't hesitate to ask for a quote.
Our partner collections include: Blackpool Zoo, Dartmoor Zoo, Edinburgh Zoo, Jimmy's Farm, Knowsley Safari, Lakeview Monkey Sanctuary, Longleat, Port Lympne Reserve, Shaldon Wildlife Trust, Woburn Safari Park, and Yorkshire Wildlife Park
What you will learn
We will take your group out of their normal working environment and whether you want them to work hard or laugh and have fun, they will get a chance to embrace team spirit in reaching a tangible outcome! Mark and Chris use their animal expertise to create team building programmes that benefit your workforce, while boosting animal welfare for a true sense of achievement! Each event is tailored to the needs of the group so please enquire for more details of how we can help your team.
Further information