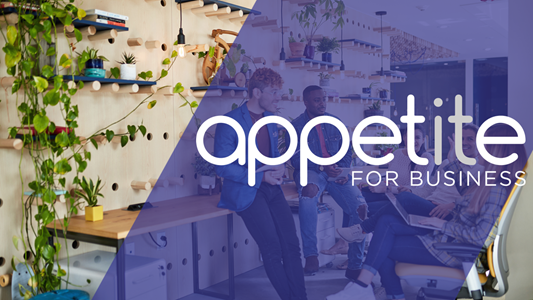 Developing Business Through Technology
Accelerate productivity and improve performance in your business
Appetite for Business Ltd  is an award-winning UK based training company with a passion to help people learn and develop through the use of Microsoft & Adobe Applications training courses. Accredited by the Learning & Peformance Institute, we understand that every client is different and as such customise training solutions to suit your individual requirements. We are interested in building strong, long lasting business relationships based on high quality training and customer care. We pride ourselves on responding quickly to queries and providing advice on all your training requirements. We work with you to develop a solution based on individual requirements, budget and timeline.
We have been delivering outstanding training programmes for over 3 years (historically a further 15). Our approach is to continually improve our courses and delivery methods, to stay current with the changing ways in how people are learning, and to deliver the most efficient training for people to perform at their moment of need.
Our team are fully accredited for both online and face to face delivery, are experts in their subject matter, as well as having a natural ability to bring out the best in everyone.
We can provide IT training across the UK through both face to face or online learning.
Training at your Offices
We provide Microsoft and Adobe training courses delivered at your site and tailored to suit your delegates' requirements. These group training events can be made particularly relevant by incorporating typical or actual material from your workplace and can be tailored to cover the specific features your group needs.
Workshops
In addition to our on-site training service, we run workshops at our Aberdeen training centre.
Live Online
Book us to deliver Live Online Interactive learning for Microsoft Office or Adobe - get all your staff trained no matter where they are, all training is delivered by COLF certified trainers and conforms to the standards of The Learning and Performance Institute.
Why use Appetite for Business?
Proven track record. ALL our training is designed to give people the practical IT skills they need to do their job more effectively. This gives people more confidence when returning to work. It also has quantifiable benefits to the organisation.

Full day, Half Day and short courses to suit your requirements, focus on exactly what they need and go back and apply it immediately.

Fully Interactive Live Online Learning - avoid costly travel to the training centre or office

Quality. We pride ourselves on the quality of our LPI accredited trainers; and as a preferred training supplier to some of the UK's top companies, you can be sure of our commitment to quality.

Learning doesn't stop once the course has finished. Most of the hard work happens back in the office. For this reason we're committed to providing continuous post course support. Call, email plus website blog/forum and a social media presence for all our delegates.
News
Appetite have Gold Accredited Learner Status with The Learning and Performance Institute for seven consecutive years.  This provides you with confidence of our quality as a provider.
Available courses